David Petraeus, John Allen, and the Real Housewives of Tampa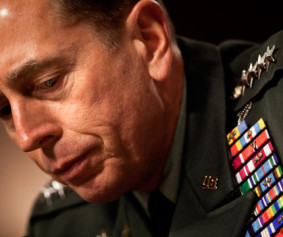 Saturday, December 15th, 2012 @ 8:29AM
This issue is courtesy of Charles Krakoff, publisher and principal author of "Emerging Market Outlook," as well as Founder and Managing Partner of Koios Associates, LLC, a firm specialized in investment, trade, and financial strategy in emerging markets. 
"In theory, there is no difference between theory and practice. In practice there is." Yogi Berra
Now that Presidential campaigning is on at least temporary hold until after the Christmas holidays, we have a new reality show to follow. It's a good thing, too; the entertainment value of the Republican traveling circus had been in steady decline as the more flamboyantly interesting pretenders fell away one by one.
Michelle Bachmann, the diminutive spitfire with a demonic gleam in her eye. Herman Cain, the pizza mogul with a catchy fiscal formula and a flood of sexual harassment charges. Newt Gingrich, the onetime history professor who lectured TV reporters on their intellectual shortcomings and blamed the abandonment of his cancer-stricken wife for another woman on the stresses of "trying to save the country." Sex-obsessed Rick Santorum in his sweater-vests.
It will take some time to fully parse the complex relationships, sexual and otherwise, involving Generals Petraeus and Allen, buff military reservist and biographer Paula Broadwell, and socialite Jill Kelley, who narrowly avoided foreclosure on her imposing Tampa home having spent the mortgage money on entertainment for the McDill Air Force Base officer corps.
It's hard to imagine this not becoming a made for TV movie or even an ongoing reality show, a combination of "Real Housewives," "Keeping Up with the Kardashians," and "Reflections in a Golden Eye," the steamy Carson McCullers novel set in a southern military base, made into an even steamier movie with Marlon Brando and Elizabeth Taylor.
The idiocy of destroying one, and possibly two, distinguished careers over an extramarital affair (possibly two), involving no improper relationships with subordinates or sexual harassment, and unlikely to have entailed any breach of national security, seems wasteful in the extreme.
David Petraeus may not have merited the near-universal adulation he received, but he is unquestionably a talented and dedicated man whose service to his country should not have been cut short by the kind of peccadillo to which powerful and famous men are especially vulnerable.
A couple of remarkable bits of information have leaped out of the voluminous media coverage of this set of interconnected events. The first, and most troubling, is the revelation of the ease with which law enforcement agencies can read our e-mails pretty much at will. The government needs no search warrant, only a court authorization or subpoena, to access e-mails stored for more than 180 days, and it can do real-time intercepts of social network traffic.
The difference is that a search warrant requires probable cause, while a request for a court order need only state that the information is relevant to an ongoing investigation. This is more than a semantic distinction, and something that goes to the heart of the deliberate erosion of our civil liberties, often without our knowledge, in the wake of the 9/11 attacks.
But the thing that most impressed me is the report of the 20,000 to 30,000 pages of "inappropriate" e-mail exchanges between General John Allen and Ms. Kelley from 2010 to 2012. According to Slate magazine 20,000 pages, if printed on 8-1/2- by 11-inch paper, would form a stack 6 feet four inches high. We don't yet know anything about the content of these e-mails, but their quantity is staggering.
By way of comparison, the Penguin edition of Samuel Richardson's 1747-48 epistolary novel Clarissa, one of the longest novels ever written, counts a mere 1,534 pages. Most of the English translations of War and Peace, possibly the greatest novel ever written and also one of the longest, run to about 1,400 pages. By the time the Duke University Press publishes the 46th and final volume of the collected letters of the Scottish Victorian historian Thomas Carlyle and his wife Jane Walsh Carlyle, which include 70 years of correspondence with such luminaries as Charles Dickens, Ralph Waldo Emerson, John Stuart Mill, and Ivan Turgenev, as well as with each other, the series will amount to some 20,000 pages.
I don't mean to suggest that whatever General Allen and Ms. Kelley had to say to each other was of any less enduring interest than Thomas Carlyle's exchange of ideas with Johann Wolfgang von Goethe, but it does raise a question similar to the one on everyone's mind when Wilt Chamberlain in his 1991 autobiography claimed to have had sex with 20,000 women: how in the world did they find the time?
For now, neither Gen. Allen nor Ms. Kelley is saying. Let's hope the People magazine exclusive or the TV movie will enlighten us. And we can wait for Duke University of someone else to publish the correspondence to find out what they were talking about.
Until Next Time
The Association for Investor Awareness, Inc., tracks market trends, industry news, the SEC, global trade and finance plus geo-political and Washington developments for you because they affect your investments. However, from time to time we like to post articles and insights we find interesting and sometimes "off the wall." This was one of those times.  Hope you have enjoyed it as much as we did.
Posted by AIA Research & Editorial Staff
Categories: AIA Newsletter