Growth Trend Continues as the CBD Market Could Surpass $23.6 Billion by 2025
Wednesday, July 8th, 2020 @ 12:28PM
Here's one stock you need to know about… it could be the surprise winner for the second-half of 2020
Mike Casson
Executive Editor
Green Leaf Investing
CBD products have gone mainstream and are now available in major retailers like CVS, Walgreens, and Kroger. Over the past few years many companies have announced they are getting into the CBD business, but a lot of them failed to develop a quality product.
So, how big is the market and which companies stand to ride this growth wave?
Chicago-based market research firm, High Yield Insights, says that by 2025, the CBD market could surpass $23.6 billion, which is a 22.2 percent compound annual growth rate. Also according to High Yield Insights, "roughly 40 percent of U.S. adults age 21 and over indicated a willingness to explore CBD under the right conditions, citing a new study on U.S. CBD consumers." High Yield Insights, however, is not the only research firm talking about big numbers.
New Frontier Data conducted a nationally represented survey of consumers that said 86% of Americans know of CBD, while 18% of Americans have tried CBD at least once. Another survey with surprising results is one that was completed by the Arthritis Foundation, where 26 percent of patients with arthritis said they use CBD to treat their symptoms.
Most CBD products the average American consumer finds on the shelf are made from hemp. Currently, 47 of the 50 U.S. states, as well as the District of Columbia, have legalized the sale and use of hemp-derived CBD products. According to federal law, hemp CBD is 100% legal throughout the United States if it does not contain more than 0.3 percent of THC, which is the compound in the plant most commonly associated with the psychoactive effect of getting a person high.
This high growth, five year trend in the CBD market could help established companies like Charlotte's Web Holdings, Inc. (OTCQX: CWBHF), Tilray (NASDAQ: TLRY), and Curaleaf Holdings (OTCQX: CURLF) return to or at least reclaim some of their past glory.  It most certainly could be the explosive catalyst for a company like Rapid Therapeutic Science Laboratories, Inc. (OTC: RTSL), and this is why astute investors should take notice.
Rapid Therapeutic Science Laboratories, Inc. (OTC: RTSL) is an SEC fully-reporting, emerging biotech company focused on manufacturing and marketing CBD aerosol delivery systems based on pressurized Metered Dose Inhaler (MDI) technology.  MDIs deliver legal cannabinoids directly into the blood stream though the pulmonary tract within seconds after inhalation.  This means that almost immediately after you inhale, the CBD is working for you. RTSL's lead product is the RxoidTM metered dose inhaler, which is available in a 2.5 mg and 5.0 mg strength. The main thing that differentiates RTSL from other product competitors is the delivery method. It's safe, clean and fast acting.
The RxoidTM MDI shares many physical characteristics of an asthma inhaler and works the same way by delivering medication directly to a user's systemic blood stream. RxoidTM delivers a consistent and effective dose of CBD, which is easily inhaled, and goes to work quickly to combat not only pain, but numerous forms of anxiety, including social anxiety disorder (SAD), panic disorder, obsessive-compulsive disorder, GAD, and post-traumatic stress disorder (PTSD).
The device delivers the safest, highest quality ingredients designed for the fastest acting relief. RTSL markets its RxoidTM MDI product mainly through pharmacies, physicians, and select distribution chains. You can also buy direct on the Company's website.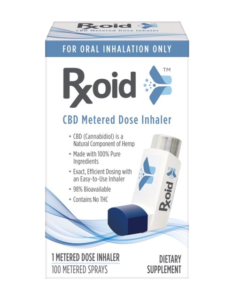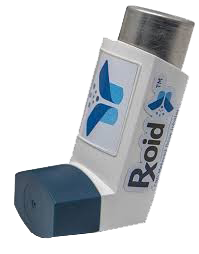 If you want to try a RxoidTM MDI from RTSL, you can order online at https://www.rxoid.com/product/rxoid-cbd-inhaler/.
RTSL became a public company late last year, had modest revenues for the first quarter of 2020, began ramping up sales in Q2 and announced on June 23, 2020 it had received a 100,000 unit wholesale order for its RxoidTM brand 5.0 mg proprietary CBD/CBG formulation which delivers a 98% bioavailable dose of CBD directly to the systemic blood stream. Donal R. Schmidt, Jr., Chairman and CEO said in the press release, "Our RxoidTM CBD Inhalers are currently being sold through doctors' offices and in pharmacies across the United States and we are extremely pleased about our products' acceptance throughout the medical community."
MDI's are generally sterile, stable, will not oxidize and have a long shelf life because they are not affected by light or temperature. MDI's require neither heat nor batteries and efficiently deliver the same dosage of medication from first application to the last.  Bioavailability of RTSL's MDI approaches 98%. Drug bioavailability refers to the amount of and rate at which the active drug reaches systemic circulation, thereby providing the desired result.
RTSL is currently testing formulations of CBN, THCva, tadalafil (Cialis), psilocybin (psychedelic mushrooms) where legal and a natural formulated replacement for amphetamines used to treat ADHD such as Adderall.
In our opinion, RTSL's RxoidTM product offers a tremendous alternative to CBD tablets, gummies, oils, vape pens, edible food items, and gel caps. Not only does it work better and faster, it is safe to use.  RxoidTM is manufactured using Current Good Manufacturing Practice (CGMP) standards that are mandated by the FDA with respect to the manufacture of all drugs and medical devices. RTSL is certified by CMDICB (http://cmdicb.com/) for product safety and its MDIs are covered by products liability insurance.
Interested investors can find out more about Rapid Therapeutic Science Laboratories, Inc. (OTC: RTSL) on the Company's website at www.rtslco.com, as well as in a recently released, in-depth research report authored by Brian R. Connell, Chartered Financial Analyst (CFA) at Emerald Equity Research, LLC, which can be downloaded here at no cost: https://emeralder.com/wp-content/uploads/2020/06/RTSL-Coverage-Initiation-Report-June-22-2020.pdf.
Disclaimer and Disclosures: Green Leaf Investing, Green Leaf or GLI is a financial publisher and not a FINRA broker/dealer or investment adviser. Green Leaf is not registered with the SEC / U.S. Securities and Exchange Commission or any state securities regulatory agency. Readers, subscribers and web site visitors are responsible for individual investment decisions. All information contained in our newsletters or on our web site and in our blogs should be independently verified with the featured companies and readers should always conduct their own research and due diligence and engage professional investment advisers as they deem appropriate before making investment decisions. Please review our Terms and Conditions of Use, including without limitation all disclaimers of warranties and limitations on liability contained therein. Your use of this web site and any information contained herein or in our newsletters and blogs constitutes your agreement of same. Officers, employees and affiliates may hold positions in the featured securities discussed in our newsletters or on our web site and blogs and may buy or sell said securities at any time without further notice. GLI and/or affiliates may receive cash and/or equity compensation from featured companies for corporate communications services. . In the interest of full disclosure, Mike Casson, GLI's Executive Editor is also president of Casson Communications, LLC (CCLLC), an affiliated company. CCLLC has received seventeen thousand-five hundred dollars in cash compensation from the subject company for corporate communication services and allocated a portion of that compensation for the distribution of this article as part of said services. You should be aware of these potential conflicts of interest. We believe the information contained herein and in our publications to be reliable but cannot guarantee its accuracy; therefore, all information is provided as is without warranty of any kind. Past results are not necessarily indicative of future performance.
Posted by:
Research and Editorial Staff
GreenLeafInvesting.org
Special thanks to David Kugelman, OTC Stock Review for allowing us to incorporate some of his commentary and research in this article. 
© 2020 Green Leaf Investing, All Rights Reserved
Posted by AIA Research & Editorial Staff
Categories: Uncategorized