House Passes $1.4 Trillion Spending Deal To Avert Shutdown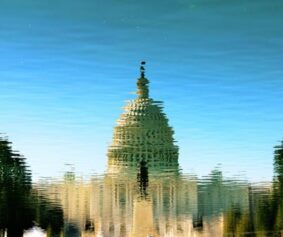 Thursday, December 19th, 2019 @ 3:04AM
GARY D. HALBERT
BETWEEN THE LINES
The one overriding theme of my writing over the past 40+ years has been the seemingly unstoppable rise in government deficit spending. It never ends. It probably will never end – that is, until we go over the edge in the next financial crisis induced depression, whenever that is. But I can't help myself; I keep warning about it anyway. That's just what I do.
The US House of Representatives voted on Tuesday of this week to approve a massive $1.4 trillion spending package that would stave off a looming government shutdown and fund the federal government through September of next year. This latest budget 'breakthrough' came just a day before Democrats plan to impeach President Trump.
The media characterized this new federal budget as a "burst of bipartisanship." That's hogwash! It happened plain and simply because just about everyone, on both sides of the political aisle, got what they wanted – more federal spending. No wonder they came to an agreement!
The new legislation will add at least $50 billion in additional federal spending, and that number may be conservative. All told, the new spending bill will add over $500 billion to the budget deficits over the next decade, which are already projected to top $1 trillion annually for at least the next 10 years.
The latest legislation would have the government spending a record $4.75 trillion in fiscal year 2020 (October 1, 2019 to September 30, 2020). Efforts to reign-in federal spending in the early years of this decade, such as "sequestration," are now completely out the window!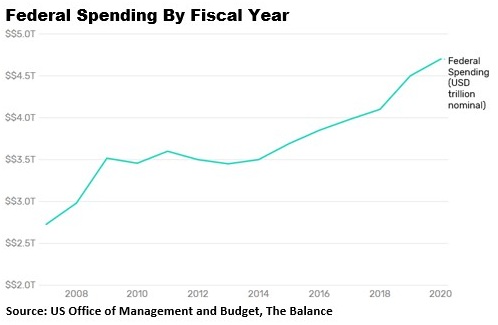 The latest spending binge generated predictable finger-pointing, with Republicans defending their demands for increased Defense Department budgets, while accusing Democrats of bloating funding for domestic programs. Democrats argued the reverse, contending that more money for health and education programs was justified and blamed Republicans for making increased defense spending the price to pay for it.
Almost no one warned that federal spending is out of control, what with our national debt topping $23 trillion earlier this year. As I've written before, no one in Washington cares anymore!
The number of issues handled in this bill is stunning. It contains major changes in healthcare policy, extends flood insurance, reauthorizes the Export-Import Bank for seven years, extends the terrorism insurance program and reauthorizes money to rebuild the Kennedy Center and so much more.
Republicans get to tout a $22 billion increase in defense spending, among other things, while Democrats can point to $25 million in federal funding for gun violence research, $425 million in election security grants and a $208 million increase for the Environmental Protection Agency – just to name a few.
As part of the whirlwind dealmaking, congressional leaders and White House officials reached a late-night agreement on Monday to extend some tax breaks through 2020, with longer extensions for provisions covering biodiesel production and railroad maintenance, for example.
The new deal would renew numerous tax provisions that either expired at the beginning of 2018 or this year, or were set to expire on January 1. They include deductions for mortgage insurance premiums, college costs and large medical expenses; excise tax breaks for craft brewers and distillers; credits for employer-paid family and medical leave and faster depreciation for a host of items.
A commentator for Politico noted, "If you are a company or an entity with a legislative priority, and you couldn't get it in this year-end [spending] package, call your lobbyist for a chat. Or better yet, look for a new one."
In case you're wondering, the new budget for FY2020 did not increase spending on the president's border wall, as the White House requested. The House voted to keep it steady at only $1.37 billion, rather than the $5 trillion requested by the administration. Despite that, it is expected that President Trump will sign this bill after it passes in the Senate, which is expected tomorrow.
The bottom line is: Congress is going to raise federal spending every year regardless of who is in the White House. The only question is: How long are foreigners going to continue to buy our ever-increasing amounts of Treasury debt?
There are, in fact, signs that foreign demand for Treasuries is waning, and it bears watching closely. That's a discussion for another time but know that I'm on it.
Late Note (Football): Many of us here in Texas will be on the edge of our seats this Sunday afternoon when the Dallas Cowboys take on the Philadelphia Eagles to determine who wins the NFC East. It is widely agreed that the Cowboys have more talent than the injury-riddled Eagles, and they are favored to win the game.
The problem is, no one knows which Cowboys team will show up – the one that drubbed the LA Rams last Sunday or the one that choked against the hapless NY Jets in week six. I hope the Cowboys win, but I'm not holding my breath! The other question is whether Coach Jason Garrett has a job by the end of the season. My bet is he doesn't – unless he can make it to the Super Bowl. That looks very doubtful.
Posted by AIA Research & Editorial Staff
Categories: Uncategorized