Nuclear Technology Targeting Bone Cancer Receives European Patent Office Approval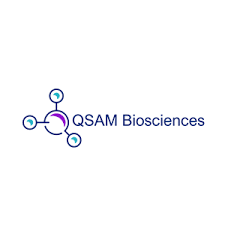 Monday, December 21st, 2020 @ 11:36PM
Put this biotech on your radar immediately… here's why…!
QSAM Biosciences, Inc. (OTCQB: QSAM), is developing next generation nuclear technologies for the treatment of bone cancer.
The European Patent Office (EPO) has allowed the first patent covering "DOTMP kit formulations for radioisotopes." This is the first patent outside the United States and is in addition to the two prior patents issued by the United States Patent & Trademark Office (USPTO) covering "High purity and low specific activity therapeutic bone agents."
The EPO patent allowance covers technology licensed exclusively by QSAM from IGL Pharma, Inc. that protects the radiopharmacy preparation of CycloSam.
The DOTMP kits, which refer to the chelating agent that binds the radioisotopes to growing cells in the bone and is believed by management to reduce toxicity and increase efficacy of the drug candidate, are a crucial component of the Cyclosam radiopharmaceutical product.
CycloSam®, is a clinical-staged bone targeting "radiopharmaceutical" that is cleared by the FDA (under an investigator IND) to commence human dosing immediately in patients with Osteosarcoma (malignant tumors) and Bone Metastasis (cancer that has spread to the bone from the breast, prostate and other areas).
Read the full news release here: https://www.otcmarkets.com/stock/QSAM/news/QSAM-Biosciences-Receives-Notice-of-Allowance-for-European-Patent-and-Expands-Licensed-IP-Portfolio?id=282965
THE BOTTOM LINE:
Early-stage bio-techs are generally dependent on three things: good technology; adequate financing; and most importantly [IMHO]… great management.
Richard Baum, CEO brings over 28 years of bioscience and biotech industry experience… and the new Executive Chairman, Richard Piazza has more than 45 years of healthcare experience in both medical devices and pharmaceutical/biotech development.
Together, they have raise over $200 million in capital to fund breakthrough technologies… which is certainly what CycloSam® looks like.
Do your research on (OTCQB: QSAM) and consider adding it to your biotech portfolio… today's $0.50 range looks like a very good entry point.
POSTED BY:
Mike Casson, Executive Editor MicroCap MarketPlace (MCMP)
__________________________________________________________________________
Disclaimer and Disclosures: MicroCap MarketPlace (MCMP) is a financial publisher and not a FINRA broker/dealer or investment adviser. MCMP is not registered with the SEC / U.S. Securities and Exchange Commission or any state securities regulatory agency. Readers, subscribers and web site visitors are responsible for individual investment decisions. All information contained in our newsletters or on our web site and in our blogs should be independently verified with the featured companies and readers should always conduct their own research and due diligence and engage professional investment advisers as they deem appropriate before making investment decisions. Please review the Terms and Conditions of Use, including without limitation all disclaimers of warranties and limitations on liability contained therein. Your use of any information on our websites, contained herein or in our newsletters and blogs constitutes your agreement of same. Officers, employees and affiliates may hold positions in the featured securities discussed in our newsletters or on our web site and blogs and may buy or sell said securities at any time without further notice. MCMP and/or affiliates may from time to time receive cash and/or equity compensation from featured companies for corporate marketing and communications services. In the interest of full disclosure, Mike Casson, MCMP's Founder/Executive Editor is also president of Casson Communications, LLC (CCLLC) an affiliated company. CCLLC has received five thousand dollars in cash compensation from OTC Stock Review for marketing and communication services and allocated a portion of that compensation for the distribution of this article as part of said services. You should be aware of these potential conflicts of interest. We believe the information contained herein and in our publications to be reliable but cannot guarantee its accuracy; therefore, all information is provided as is without warranty of any kind. Past results are not necessarily indicative of future performance.
© 2020 MicroCap MarketPlace, All Rights Reserved
Posted by AIA Research & Editorial Staff
Categories: Uncategorized