Pure Harvest Corporate Group, Inc. (OTCQB: PHCG)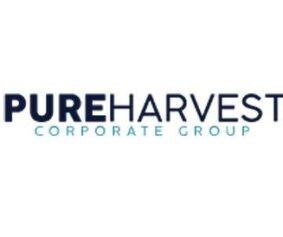 Wednesday, December 23rd, 2020 @ 11:27AM
Company Summary: Pure Harvest (OTCQB: PHCG) is a publicly traded holding company involved in all cycles of cannabis and CBD development. The Company is committed to providing the highest quality products, ethical growing standards, environmental awareness, and corporate integrity. Pure Harvest intends to develop into a large scale vertically integrated multi-state operator (MSO), producer, and distributor in well-established and growing markets.
Pure Harvest is focused on developing precision dosed health and wellness consumer products. The Company's goals include establishing Pure Harvest as an iconic consumer product brand offering a wide variety of cannabis/CBD products that can be sold in multiple international markets that have legalized cannabis and hemp-derived products.
The Company has 25 full-time employees and recently moved into a new, expanded corporate office in Greenwood Village, CO, an upscale suburban area on the south side of Denver.
Key Metrics @ 12/11/2020
| | |
| --- | --- |
| Closing Price | $0.52 |
| 52 Week Range | $0.20 to $0.95 |
| Shares Outstanding | 62.840M |
| Shares in the Float | 6.593M |
| Shares held at DTC | 6.882M |
| Common Shares Authorized | 240M |
| Average Daily Volume: 10 Day | 28,300 |
| Market Cap | $32.671M |
| Reporting Status | SEC Reporting |
| Financials | Audited |
| Most Recent Filing: 10-Q for 09/30/2020  | Filed: 11/23/2020  |
| Fiscal Year-end | 12/31 |
(Source: OTC Markets, Yahoo Finance, SEC filings)
Corporate News and Market Drivers
CORPORATE NEWS  
DENVER, CO, Dec. 09, 2020 (GLOBE NEWSWIRE) — via NewMediaWire – Pure Harvest Corporate Group, Inc. (OTCQB: PHCG), an emerging cannabis and hemp-CBD holding company, is pleased to announce it has named veteran cannabis lawyer Donnie Emmi as Chief Executive Officer of its wholly owned subsidiary, Test Kitchen, Inc. Mr. Emmi will also join the Company's Board of Directors. Test Kitchen is Pure Harvest's living laboratory for human potential, where innovation and product development combine to create an elegant suite of plant-based medicine and nutraceutical product offerings. The newly formed Colorado-based company, specializing in pharmacognosy research, has begun developing and formulating new products using cutting edge, patent-pending technology and proprietary delivery systems. Test Kitchen was founded on the belief in the power of full engagement of products to be combined with mind-body practices to unlock human potential and create predictable experiences. Emmi brings a stellar Wall Street investment banking background and more than 17 years of legal experience to Pure Harvest and Test Kitchen.
Denver, CO, Dec. 02, 2020 (GLOBE NEWSWIRE) — via NewMediaWire — Pure Harvest Corporate Group, Inc. (OTCQB: PHCG), an emerging cannabis and hemp-CBD holding company, is pleased to announce that it has added David Chessler and his family office of Chessler Holdings as a strategic investment group. In addition to a significant capital investment in the Company, Mr. Chessler will also assist Pure Harvest's CEO Matt Gregarek in strategic partnerships and acquisitions, deal structuring and future capital raises. Mr. Chessler is a dynamic and innovative leader with creative investing skills and has a history of entrepreneurship, turn-around successes and value-added investment in small to mid-cap companies. Mr. Chessler currently sits on over a dozen board of directors and serves as the managing director of Jordyn Holdings, Chessler Holdings, and Great White Shark Opportunity Fund specializing in growth capital investments, asset-based lending and distressed assets.
SKM Dispensary and Colorado on Pace to Shatter Year Over Year Sale Figures Denver, CO, Nov. 25, 2020 (GLOBE NEWSWIRE) — via NewMediaWire — Pure Harvest Corporate Group, Inc. (OTCQB: PHCG), an emerging cannabis and hemp-CBD holding company, is pleased to announce a dramatic increase in revenue via its most recent quarterly report.
Financial Highlights are as follows:
Q3 2020 Revenues increased by 8,066% from Q2 2020 Revenue
Q3 2020 Revenue: $318,690 vs Q2 2020 Revenue: $3,951
Gross Profit increased from negative ($36,114) in Q2 2020 to $258,138 in Q3 2020
Revenue Increased by 2,229% from Q3 2019
Gross Profit increased from $9,516 in Q3 2019 to $258,138 in Q3 2020.
The significant increases are largely attributable to revenue derived from the Company's recently opened dispensary located in Dumont-Downieville, Colorado. In addition to the retail location, the Company operates a cultivation and processing facility in Dumont, located on the busy I-70 corridor between Denver and Colorado's world-class ski and tourist destinations.
Bottom Line Observation
__________________________________________________________________________
In the last six weeks PHCG has seen an upward movement from $0.27/share on 11/02/2020 to $0.52 on 12/11/2020… a strong 92.5% uplift in share price. What's more, the 52-week high of $0.95/share was recorded on 12/02… so the potential for short term as well as long term gains seems fairly evident to this observer. However, all readers are cautioned to do their own research and make informed decisions. With the Company's announcements of its expanded management team, the addition of a very strategic investor-partner and rapidly increasing revenues, PHCG seems like a stock you should keep on your radar. However, if you like what you read about PHCG, now might be a pretty good entry point to start accumulating shares for a small-cap, cannabis industry portfolio. Posted by: Research and Editorial Staff
CORPORATE CONTACT:
Pure Harvest Corporate Group, Inc.
7400 E. Crestline Circle, Suite 130
Greenwood Village, CO 80111
800-924-3716
Matthew D. Gregarek, CEO
[email protected]
For up to date corporate information visit the Company's website or social media accounts at: www.pureharvestgroup.com
https://www.facebook.com/pureharvestgroup
https://www.linkedin.com/company/pure-harvest-cannabis-group-otc-phcg/
https://twitter.com/PureHarvestCG
Disclaimer and Disclosures: MicroCap MarketPlace (MCMP) is a financial publisher and not a FINRA broker/dealer or investment adviser. MCMP is not registered with the SEC / U.S. Securities and Exchange Commission or any state securities regulatory agency. Readers, subscribers and web site visitors are responsible for individual investment decisions. All information contained in our newsletters or on our web site and in our blogs should be independently verified with the featured companies and readers should always conduct their own research and due diligence and engage professional investment advisers as they deem appropriate before making investment decisions. Please review the Terms and Conditions of Use, including without limitation all disclaimers of warranties and limitations on liability contained therein. Your use of any information on our websites, contained herein or in our newsletters and blogs constitutes your agreement of same. MCMP did not receive any compensation for this article. However, officers, employees and affiliates may hold positions in the featured securities discussed in our newsletters or on our web site and blogs and may buy or sell said securities at any time without further notice. MCMP and/or affiliates may from time to time receive cash and/or equity compensation from featured companies for corporate communications services. In the interest of full disclosure, Mike Casson, MCMP's Executive Editor is also president of Casson Communications, LLC (CCLLC), an affiliated company that provides market awareness services for client companies. CCLLC has received eight thousand seven hundred fifty dollars in cash compensation from the subject company for marketing services. You should be aware of these potential conflicts of interest. We believe the information contained herein and in our publications to be reliable but cannot guarantee its accuracy; therefore, all information is provided as is without warranty of any kind. Past results are not necessarily indicative of future performance.
MicroCapMarketPlace.com
© 2020 MicroCapMarketPlace, All Rights Reserved
Posted by AIA Research & Editorial Staff
Categories: Uncategorized